After hard-fought wins in the quarterfinals of the 2023 FIFA Women's World Cup, Spain and Sweden battled on Tuesday (on FOX and the FOX Sports app) in a true back-and-forth affair. 
Both squads entered unscathed, and it was even for most of the match until a flurry of activity from the 80th minute and beyond where there were three goals scored in just 10 minutes of game action.
For Spain, the win gives the team its first-ever appearance in a final at the World Cup, led by young superstar Salma Paralluelo, who delivered the first goal of the match for Spain. Later Olga Carmona would add the winner for Spain just one minute after Rebecka Blomqvist knotted the game for Sweden. 
Spain vs. Sweden Highlights | 2023 FIFA Women's World Cup
Spain advanced to the 2023 FIFA Women's World Cup Final. Check out the top moments and highlights here!
Here are the top plays, featuring analysis from FOX Sports' Michael Cohen!
Final analysis
Cohen: A pulsating second half between Spain and Sweden produced three goals in nine minutes as a fizzed strike from fullback Olga Carmona on the brink of stoppage time nudged La Roja into their first major tournament final. Carmona received a short corner kick on the left edge of the penalty area and rifled a shot off the underside of the crossbar — stunning Swedish goalkeeper Zecira Musovic, one of the stars of this year's Women's World Cup — to secure a 2-1 victory when the game seemed destined for extra time.
Carmona's breathtaking effort came seconds after Sweden had shocked the raucous crowd with an 88th-minute equalizer from substitute Rebecka Blomqvist, her guided shot off a nodded-down header erasing a Spanish lead for the second consecutive game. The goal was wonderfully, prototypically Swedish in a competition where manager Peter Gerhardsson's team has relied so heavily on crosses and set pieces as the complement to its stalwart defending. A looping cross found the head of substitute Lina Hurtig, who scored the winning penalty kick against the United States in the Round of 16, and she cushioned it beautifully for Blomqvist.
But just as it has all tournament, the new guard continues to usurp the old in women's soccer. An immensely talented Spanish side coached by Jorge Vilda plays with the kind of style and flair that has caused the sport's popularity to soar, and that level of talent proved too much for an aging Sweden squad playing in its fifth World Cup semifinal. 
Teenage sensation Salma Paralluelo opened the scoring with an instinctive, predatory finish on a loose ball in the box for her second goal in as many games to finally crack the resolute Swedish defense. And nine minutes later the winning strike came from Carmona, a 23-year-old rising star who completed 80% of her passes and won five of her eight duels. Spain becomes the youngest team to reach the final (average age 25.3) since 1995.
La Roja advance to Sunday's final and await the winner of England vs. Australia. 
95′: Sweden making a push
Cohen: Sweden is flooding bodies and crosses forward in an effort to manufacture something in the final minutes of stoppage time. Spain is doing its best to slow the play down by utilizing its third substitution window and wasting time on every stoppage.
90′: GOAL! Spain takes lead right back!
Spain's Olga Carmona scores goal | 2023 FIFA Women's World Cup
Olga Carmona breaks the deadlock against Sweden in the 89′ for Spain.
Cohen: GOAL! Spain answers right back. Unbelievable. A short corner is played to Olga Carmona on the left edge of the penalty area. She takes one touch to set herself and lasers a shot off the crossbar and in. An incredible strike. Spain now leads, 2-1, in stoppage time.
87′: GOAL! Sweden ties it!
Sweden's Rebecka Blomqvist scores goal vs. Spain in 88′ | 2023 FIFA Women's World Cup
Rebecka Blomqvist levels the score for Sweden.
Cohen: GOAL! Sweden equalizes. A looping cross from the left end line was nodded down by Lina Hurtig directly into the path of Rebecka Blomqvist, who guides her shot into the far corner. The impact sub has now scored for both teams. First it was Salma Paralluelo, now it's Blomqvist. What a game we've got on our hands.
85′: Paralluelo giving Spain extra dimension
Cohen: The heatmap of Salma Paralluelo, courtesy of WhoScored, shows just how high she's been playing. So many of her 14 touches have been in or around the Sweden penalty area. She's added a totally new dynamic for Spain.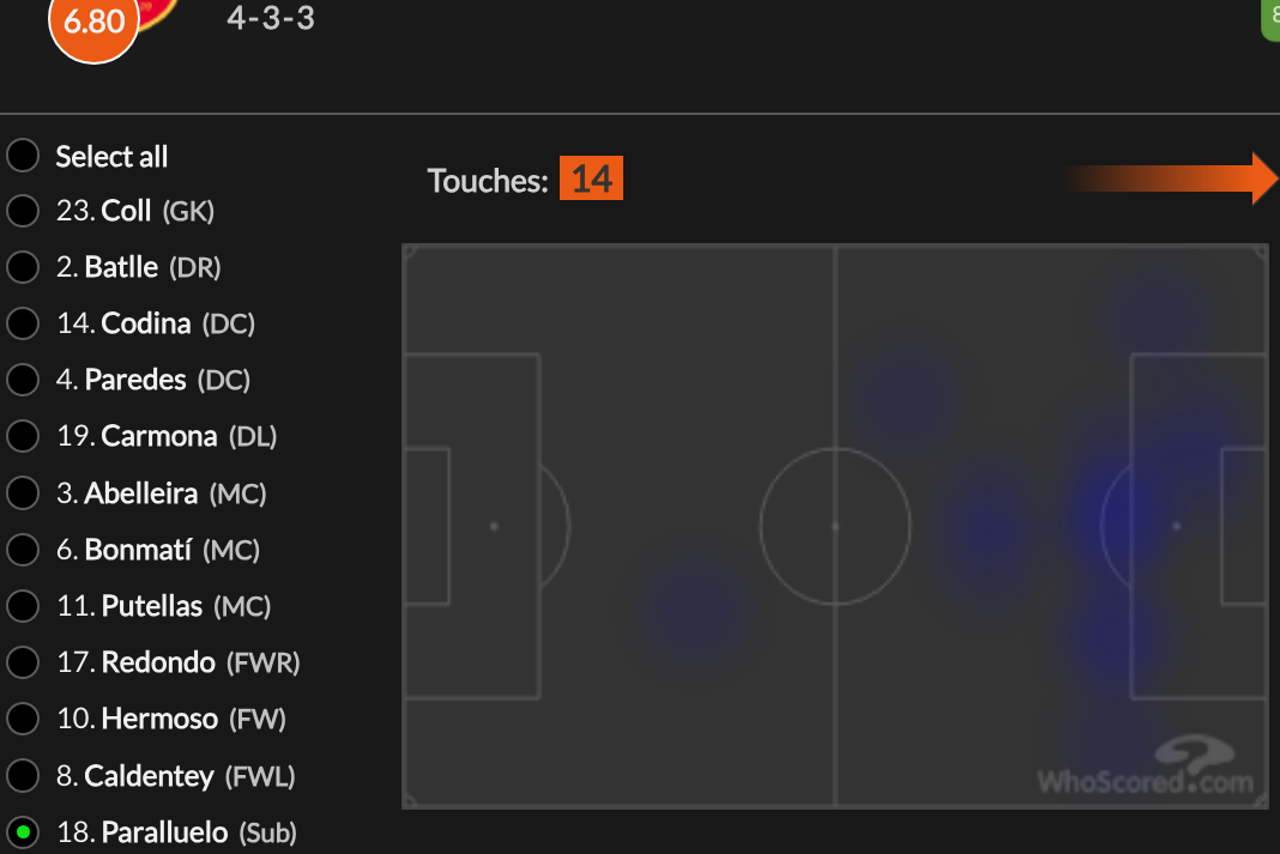 83′: How does Spain finish?
Cohen: The question now is how Spain tries to see out this game. Do the Spanish retreat into a more defensive shape and use a low block for the remaining handful of minutes? Or do they try to kill the game by keeping the ball, maintaining possession, and preventing Sweden from generating any chances at all? We shall see.
81′: GOAL! Spain strikes first 1-0
Spain's Salma Paralluelo scores goal vs. Sweden in 81′ | 2023 FIFA Women's World Cup
Salma Paralluelo opens the scoring in the semifinals.
Cohen: GOAL! Salma Paralluelo does it again. The hero from Spain's quarterfinal win is the super sub once more. A dangerous cross from Jennifer Hermoso deflected off a Swedish defender and into the path of Paralluelo, who instinctively rifled it into the bottom corner on her first touch. Spain leads, 1-0.
Did You Know?
Spain's Paralluelo (age 19) is the second teenager in Women's World Cup history to score in a semifinal joining Canada's Kara Lang, who did it first in 2003 at age 16. 
77′: Sweden subs in some help
Cohen:  Sweden answers with its own potential impact sub in Rebecka Blomqvist. She leads all players at this year's World Cup in non-penalty xG per shot at 0.68, which is a reflection of her ability to get into dangerous positions for high-quality shots. She's also third in goal-creating actions per 90 minutes with 1.55 thus far.
76′: Sweden just misses on golden opportunity
73′: Here come reinforcements for Spain
Cohen: A potential impact substitution for Spain as forward Eva Navarro replaces Alba Redondo. Navarro leads all players at the World Cup in assists per 90 minutes at 1.48 and ranks second in xAG (expected assisted goals) per 90 minutes at 1.39.
71′: Paralluelo making a difference for Spain, another chance 
Cohen: The introduction of Salma Paralluelo for Spain has shifted their shape. Paralluelo is playing as a true central striker while Jennifer Hermoso, who began the game as the central forward, is now dropping into the midfield as an extra attacking mid/deep-lying forward. Her off-ball movement has been excellent since Paralluelo came onto the field.
66′: Spain with a chance
Cohen: Chance there for Spain. A beautiful pass from Jennifer Hermoso slotted Salma Paralluelo into the penalty area, but her attempted cross was deflected away. Paralluelo has better size to contend with Sweden's height along the back line. She can combine some traditional hold-up play with the blinding pace that makes her so dangerous. She'll be looking to play on the back shoulder of Sweden's defenders in search of those piercing through balls.
65′: That's gotta hurt
62′: Final numbers for Putellas
Cohen: Some final numbers for Alexia Putellas: 15 of 21 passes completed (71%), 7 of 10 duels won, 1 dribble completed, 0 key passes, 0 shots, 33 total touches.
57′: Putellas exits,  Paralluelo enters
Cohen: Alexia Putellas lasts 57 minutes before getting subbed off. Putellas, who is arguably the best player in the world when healthy, is still recovering from a torn ACL last summer. She has yet to play 90 minutes in any game this tournament and only made two starts prior to today's game. She was replaced by Salma Paralluelo, the hero from Spain's quarterfinal win.
55′: Swedes taking it to Spain early in second half
Cohen: Ten minutes into the second half and Sweden has flipped the possession numbers (for now). The Swedes have kept the ball 54% of the time in the early going here and hold a slight 45-40 passing edge over Spain. Those numbers are likely to revert to the first-half norm as the half progresses, but it's a solid indication of Sweden's more proactive approach after the break.
51′: Sweden comes out ready
Cohen: Strong start to the second half for Sweden. They created an early chance after an aggressive pressing movement forced an errant pass from Spanish keeper Catalina Coll. Then, a beautiful pass down the right side slipped Kosovare Asllani into space for a cross that was overhit. But this is better from Sweden.
Halftime: Sweden 0, Spain 0
Cohen: There were no real surprises through the first 45 minutes as Spain dominated possession and Sweden appeared more than comfortable in defense. The Spanish held the ball 67% of the time and out-passed the Swedes by a margin of 299 to 147. But the stout Swedish defense prevented Spain from completing any of its eight crosses and did not allow a shot inside the penalty area. What might look like a one-sided game from the outside is probably quite comfortable for Sweden manager Peter Gerhardsson, who makes no apologies for the way he advances through tournaments. 
The Swedes' style is quite typical of teams who find success in the knockout rounds: they're organized, they're compact, they defend their 18-yard box, and they're excellent in the air. All they're looking for is one or two golden chances at the other end of the pitch — most likely from a set piece — to hopefully snag a win. And as we saw in the Round of 16 against the United States, there will be no fear from Gerhardsson's side if the match goes to extra time and, potentially, penalty kicks. 
From the Spanish perspective, manager Jorge Vilda will be pleased with his team's ability to keep the ball and to thwart Sweden's efforts on the counterattack. But he'll likely be searching for ways to create better chances in the second half after his side did not record a shot from inside the penalty area. The Spanish tallied just three key passes in the first half and zero shots on target.
Shot chart in Swedes favor
Cohen: Shot chart through the first 45 minutes, courtesy of WhoScored, shows that Sweden still generated the best chance of the half despite having a fraction of Spain's possession. The Swedes will be thrilled to have forced every Spanish shot to originate outside the penalty area. That's a sign of excellent defensive shape and execution.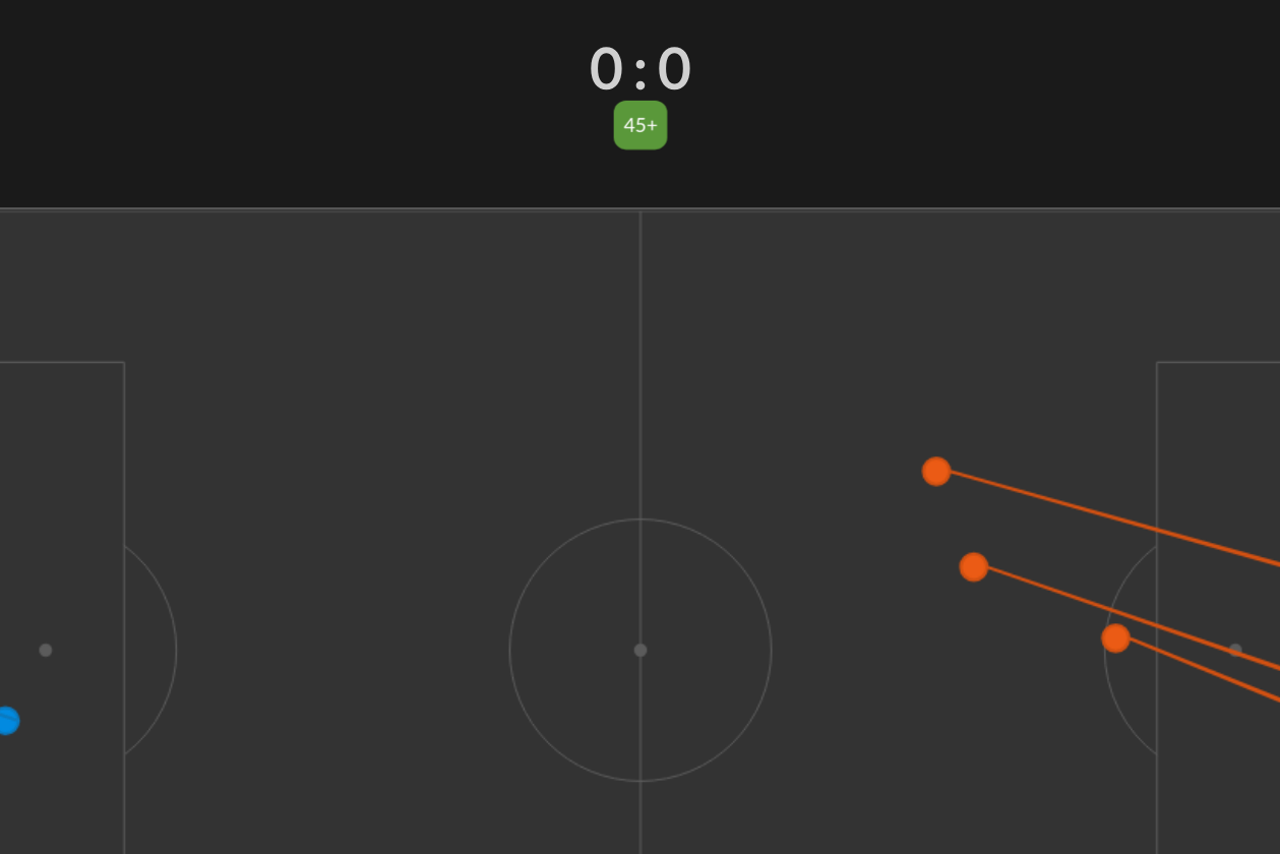 Numbers to Know:
Sweden is 13-4-4 (W-D-L) all-time when tied after the first half in the Women's World Cup. In 2019, they were tied 0-0 with Netherlands in the semifinal, and went on to lose 1-0 in extra-time.
Spain is 1-2-1 (W-D-L) all-time when tied after the first half in the Women's World Cup. The lone win came this year, vs Netherlands in the quarterfinal.
Did You Know?
Sweden has still not conceded a first-half goal at the 2023 Women's World Cup.
42′: Sweden with a great chance
Fridolina Rolfö nearly put Sweden ahead with a great chance in front of the net.
Fridolina Rolfo's shot is denied against Spain in 42′ | 2023 FIFA Women's World Cup
Fridolina Rolfo's shot was denied against Spain in 42′ in the 2023 FIFA Women's World Cup semifinals.
39′: Trying from just a bit outside 
Aitana Bonmatí powered a shot from way outside the box, but came up empty.
35′: Spain dominating early, but Sweden holding strong
Cohen: Even though Spain is dominating possession, the underlying defensive numbers for Sweden are still solid. The Swedes have seven players with at least two duels won thus far. Manager Peter Gerhardsson can feel fairly comfortable with his side's defense through the first half hour. Both of Spain's shots have originated well outside the 18-yard box.
32′: Using your hands is not advised
29′: Key player positioning 
Cohen: Average player positions for Spain, courtesy of Sofascore, show key midfielder Aitana Bonmati (6) operating in the inside right channel and fellow attacking midfielder Alexia Putellas (11) playing a slightly deeper role on the left.
Also, check out why waiting is the hardest part for Alexia Putellas.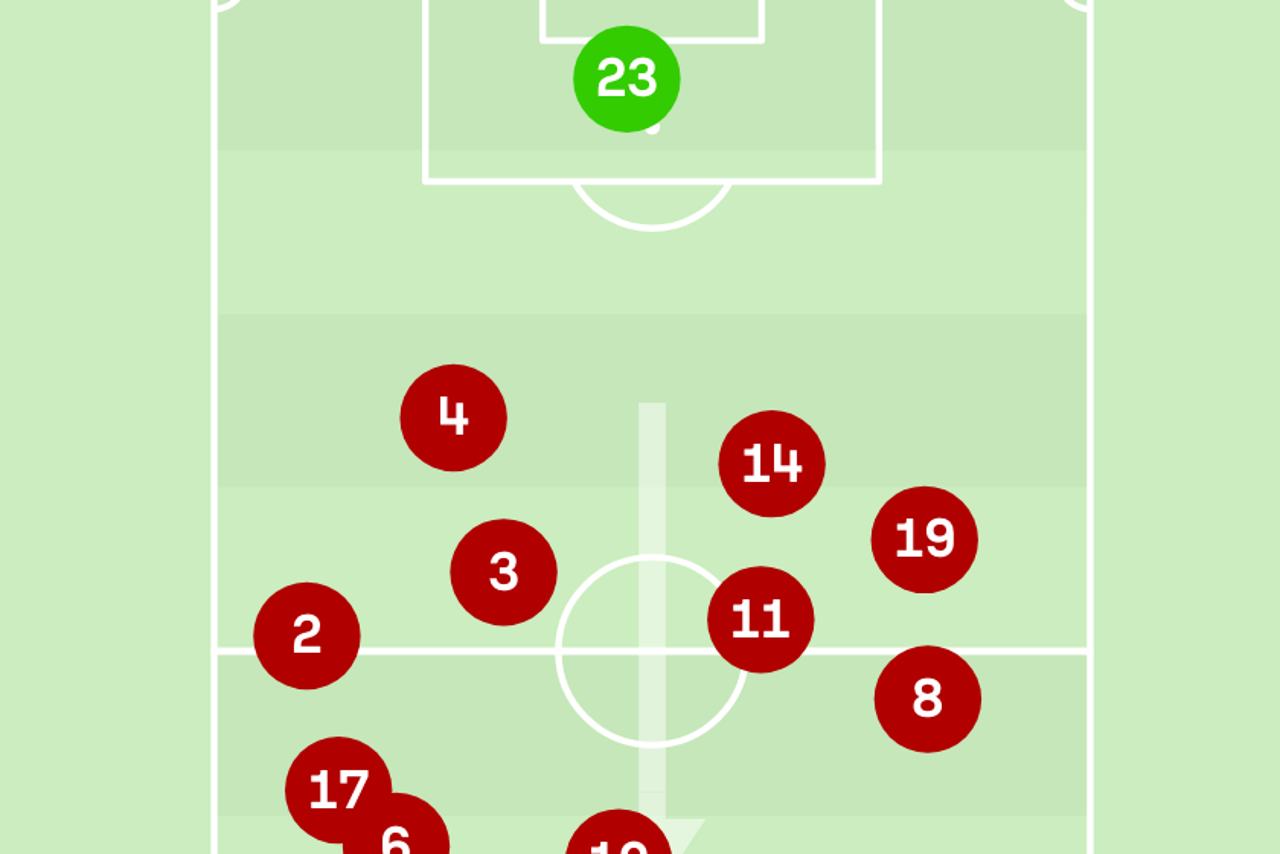 24′: Sweden bringing the defense
Elin Rubensson came up with a huge defensive effort for Sweden in their own end.
22′: Jukes her out of her shoes
Aitana Bonmatí juked the defender out of their shoes and then laced a cross into the box for a great opportunity for Spain
21′: Early trends 
Cohen: The early heatmap for Spain, courtesy of WhoScored, highlights two key trends thus far: First, is Sweden's desire to attack and build down the right-hand side, which puts pressure on Spain's left. The second is Spain's desire to get its creative players on the ball in the right-hand channel as they work toward the final third.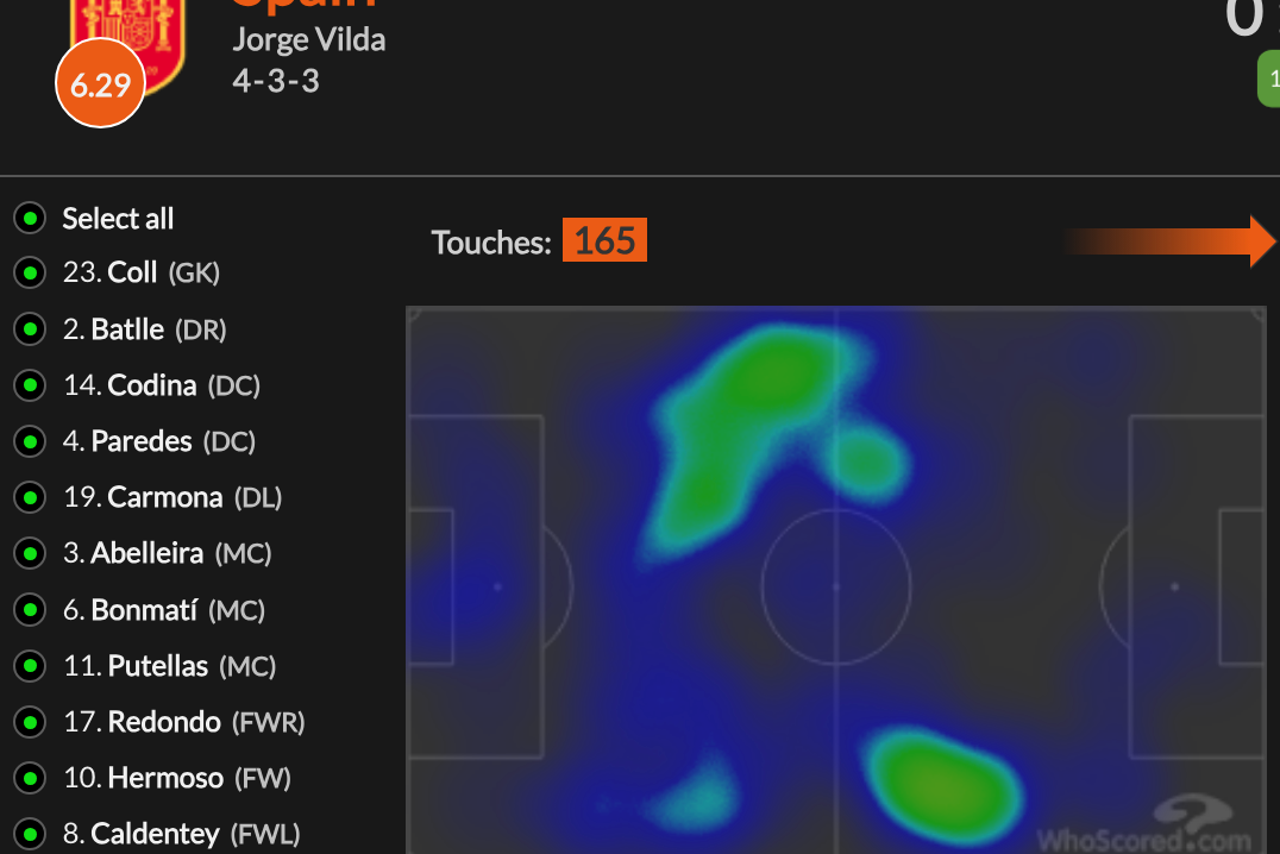 18′: Sweden fans locked in
14′: Spain almost pulls ahead
Olga Carmona nearly put Spain on the scoreboard first with a shot from outside the box.
Olga Carmona's shot is just wide of the goal as Spain and Sweden are tied at 0-0
Spain and Sweden are tied at 0-0 after Olga Carmona's shot is just wide of the net.
13′: Key passing numbers
Cohen: Some early passing numbers from this game:— Spain already has four players with at least 10 passes completed
— Sweden has zero such players. This is the pattern we're likely to see throughout the game as Spain settles into its typical, controlling style.
11′: Spain nearly first on the board
9′: Contrasting attack styles
Cohen: The difference in attacking style between these two teams should make for a fascinating battle. Sweden tends to play more direct and relies heavily on set pieces to create scoring opportunities. Spain has maintained more possession than any team in the tournament and entered today's game with 76 sequences of 10-plus passes, which ranks second behind the Netherlands. By contrast, Sweden has just 43 sequences of 10-plus passes in this year's tournament.
6′: Sweden attacking early
Cohen's take: Sweden entered today's game as an extremely right-hand dominant team. The Swedes have attacked down their right side 50% of the time and then relied on crosses into the box. Already, we're seeing Spain's attempt to combat that by forcing Sweden to the left when building out of the back. Spain's center forward, Jennifer Hermoso, is the tip of the press and she's angling her body to force Sweden toward the side it typically avoids.
4′: Keeping the goalies honest
1′: We are underway
PREGAME
Spain's outlook
Manager Jorge Vilda made a huge decision by including midfielder Alexia Putellas in his starting XI for today's game. Putellas, who has won the last two Ballon d'Or Féminin awards recognizing the best player in the world, is still working her way back to full fitness after suffering a torn ACL last year.  She's only started two games in the tournament thus far and played 155 total minutes.
Not only was including Putellas a big call based on her fitness, but there's also the underlying on-field tension between her and fellow Barcelona midfielder Aitana Bonmati, one of the breakout stars of the tournament with three goals and two assists. To be clear, there's no bad blood between Putellas and Bonmati. Rather, both players see and play the game in similar ways from similar positions, which can lead to spacing issues and moments of disjointedness on the pitch. Bonmati's best performances of the tournament have come with Putellas out of the lineup.
Other key players for Spain:
Right back Ona Battle: Leads all players at the Women's World Cup with nine crosses into the penalty area. She's tied with Spain's left back Olga Carmon for the most passes into the penalty area with 15.
Holding midfielder Teresa Abelleira: Leads all players at the Women's World Cup with 57 passes into the final third. She's also tied with teammate Irene Paredes for the most progressive passes at this year's tournament with 51.
Forward Eva Navarro: Plays the role of super sub for Spain by coming off the bench in four of five matches thus far. She leads all players at the Women's World Cup with 1.78 goal-creating actions per 90 minutes. —Michael Cohen
Sweden's outlook
Sweden has reached back-to-back Women's World Cup semifinals for the first time and is making its fifth overall appearance in the semis, tied with Germany for the second-most in history. The Swedes are searching for their first trip to the final since 2003 when they finished as runners-up to Germany. The potential 20-year gap between World Cup Final appearances would be the largest gap ever by one nation.
For Sweden, manager Peter Gerhardsson is navigating his fourth major tournament in charge. He's reached the semifinals in all of them to establish his side as one of the best in the world, evidenced by its No. 3 world ranking entering this year's World Cup. Sweden is unbeaten in 11 matches against Spain all time with a record of seven wins, four draws and zero losses.
Key players for Sweden:
Center back Amanda Ilestedt: Tied for the second-most goals at the Women's World Cup with four, all of which have come off set pieces. She's excellent in the air on both ends of the pitch and is particularly adept at finding the ball on corner kicks. Her mark of +1.4 goals minus expected goals (xG) ranks seventh at this year's World Cup and reflects her ability to turn difficult chances into goals.
Goalkeeper Zecira Musovic: The hero for Sweden's win over the United States in the Round of 16, Musovic has conceded just one goal in 180 minutes thus far. She ranks third in saves with 18 and has a staggering mark of +2.4 post-shot xG minus goals allowed, which demonstrates an ability to make difficult saves above and beyond what's expected.
Midfielder Kosovare Asllani: The heart and soul of this Sweden team plays in the No. 10 position underneath forward Stina Blackstenius. She's a key figure in transition for the Swedes, which will be critical as they look to press this possession-minded Spanish side. —Michael Cohen
Setting the stage
The World Cup NOW crew gets everyone ready for the match.
Goals bring out smiles
Keeping calm in the clutch
Check out the full Women's World Cup schedule and how to watch each match live here. Find the latest scores here.
FOLLOW
Follow your favorites to personalize your FOX Sports experience
---
FIFA WORLD CUP WOMEN trending
---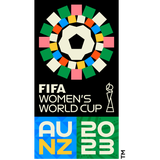 Get more from FIFA Women's World Cup Follow your favorites to get information about games, news and more
---